Residential Plumbing
Winston-Salem
Count on us to keep your home's plumbing system in top condition.
Here at Bodenheimer Plumbing Services, Inc., our long-standing residential plumbing business in the Winston-Salem community has earned us a stellar reputation for quality, exemplary customer service, and superior workmanship.
There are many different situations in which you will need a reliable plumbing team on your side throughout the years. Being able to call on someone you trust to arrive quickly and handle anything that comes up makes life easier. With over 90 years of serving the Triad community, there isn't much we haven't seen and resolved regarding residential plumbing. Our experience gives us an advantage when you have a unique situation or want your plumbing project handled correctly the first time. One of those is treating people right, and we are confident we are doing well in that regard based on our long-standing customers and long-term experienced staff. Our residential plumbing services include but are not limited to:
Bodenheimer Plumbing Services, Inc. is the plumbing team you can rely on for all your plumbing needs.
With Bodenheimer Plumbing, you can always be confident you are receiving the best service. We keep on top of innovations in the plumbing industry to be sure you always have the results you deserve. Call us today with any questions you may have: (336) 788-3966.
Services We Offer Include:
Residential Plumbing Services
Drain Cleaning
When it comes to toilets, we've seen it all. Even though they're one of the most underrated appliances in any home or business, chaos ensues when a toilet stops working....
Faucets
Get those dripping faucets taken care of with our help. Not only is a dripping faucet annoying, but it's also hard on your wallet. In fact, the Environmental Protection Agency...
Water Filtration System
Our clients want nothing more than for their family to be safe and healthy. That is why we partnered with Honest Water Filter Company to provide our clients installation of water...
Toilets
When it comes to toilets, we've seen it all. Even though they're one of the most underrated appliances in any home or business, chaos ensues when a toilet stops working....
Water Heaters
New water heaters are far more energy-efficient than older models. Did you know water heaters are the second-highest source of energy usage in most homes? Water heaters typically account...
Frozen Pipes
In Bodenheimer Plumbing Services, Inc's long history of resolving plumbing issues, one of the top concerns has been frozen pipes during the winter.
Gas Lines
We can install and repair gas lines in homes and businesses. Do you know the differences between natural gas and propane? If you want to keep the environment clean, natural...
Water & Sewer Lines
We can fix and replace damaged sections of water & sewer lines with ease. You probably already understand your home's plumbing system relatively well, but you may not be as...
I had work performed at 2 locations. Plumbers were both great and very efficient with the time. Customer Service lady very nice. I highly recommend Bodenheimer, had used them in the past. Now Bodenheimer is my go to plumber!
We were in a bad position with a stoppage. We called multiple companies and spent hundreds of dollars with other companies only to be left in the same situation. One call to Jennifer and the stoppage is fixed as it was on the city side. Simple fix that didn't cost anything. The mere fact that she thought about our situation and not try to ring our pockets deserves a 5 star rating. Definitely my new plumber!
Couldn't have asked for a better experience. The plumber was sharp, honest, and wanted to make sure he did a wonderful job. He deserves a raise! Top notch plumbing in Winston Salem.
My house was built in 1959 so it needs constant TLC. I found Bodenheimer a few years ago and everytime I use them they are so nice, show up fast, on time, and fix/install whatever the issue is in a way that you know it won't be a problem again. They also explain what they did and why and their prices are reasonable. As a single woman I really appreciate how courteous and respectful the team is.
Contact us today for all your residential and commercial plumbing needs.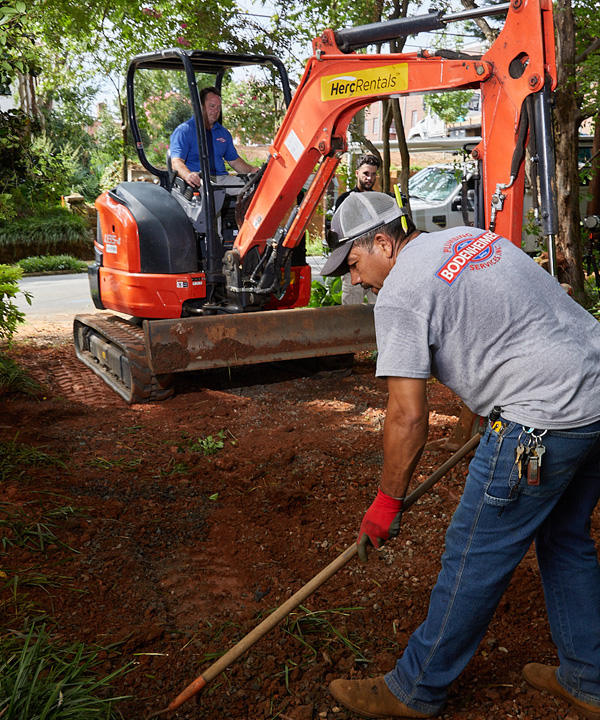 Please note that we don't monitor emails or social media on nights and weekends. For Emergency Service, please call (336)-788-3966.
Winston-Salem, Advance, Arcadia, Belews Creek, Bermuda Run, Bethania, Clemmons, Colfax, Germanton, Greensboro, High Point, Jamestown, Kernersville, King, Lewisville, Lexington, Mocksville, Oak Ridge, Pfafftown, Rural Hall, Stanleyville, Tobaccoville, Thomasville, Walkertown, Wallburg, Walnut Cove, Welcome, Yadkinville